Codes were often randomly generated alphanumeric strings of 30 characters, but now they are words or phrases with no spaces which can reward players with Currency or Card Packs when redeemed. They are usually given out on the Idle Online Universe Facebook Page, the Idle Online Universe Twitter Account and in #announcements in the Idle Online Universe Discord server.
A code can only be claimed in limited quantities, the number of which is sometimes announced when the code is handed out. Usually, the codes will expire after 1 week. Most codes will award a random resource, which scales with the player's level. Specific Bonuses and Event codes will usually give the same reward for all players.
How to redeem a code
Edit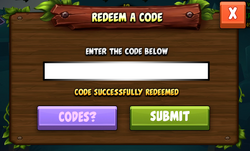 To redeem a code, a player needs to open the 
Social
 drop-down menu or press the key 'O', and choose 
Codes
. A pop-up window will appear where the player can input or copy-paste the code.
To find codes, click Codes? In the pop-up window, and it will direct you to the Idle Online Universe Facebook Page. They can also be found in the #announcements channel of the IOURPG Discord server or on the Kongregate code forum thread. Alternatively, refer to the Code List below.
Extra spaces are automatically trimmed as of 0.51 Zeta.
Code List
Edit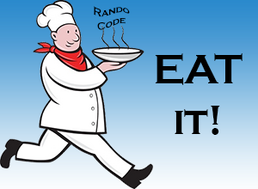 Expired codes are removed from the list. Expiry column shows the estimated last day that they are usable.
| Date Released | Codes | Expires (Approx.) |
| --- | --- | --- |
| Feb. 21st | GreatJobEveryone | February 28th |
| Feb. 21st | KeepThemComing | February 28th |
| Feb. 20th | Zaritha'sIdea | February 27th |
| Feb. 20th | firecats | February 27th |
| Feb. 19th | SoftPotato | February 26th |
| Feb. 19th | HardEgg | February 26th |
| Feb. 18th | vyionygnoq | February 25th |
| Feb. 18th | jbafdpxuwc | February 25th |
| Feb. 17th | contributeTo | February 24th |
| Feb. 17th | theWikiPlease | February 24th |
| Feb. 16th | Concert2Nite | February 23rd |
| Feb. 16th | KidRock | February 23rd |
| Feb. 15th | HappyBdayNils | February 22nd |
| Feb. 15th | EnjoyY'rDay | February 22nd |
Special Codes
Edit
| Date Released | Codes | Effect | Expires (Approx.) |
| --- | --- | --- | --- |
| Jan 10th | key | Bonus Code | Jan 13th |
| Dec. 27th | 3349ED74714116F3B292A982238F83D2 | A bonus code, contains a little reward. | Jan. 9th |
| Dec. 25th | SpecialCodeForDiscordingRay | A "hidden" code. Contains a small reward. | Jan. 7th |
| Dec. 25th | Xmas2017 | This years x-mas code, contains a variety of resources. | Jan. 7th |
| Dec. 22nd | RetroRefund | A refund code from the balance patch. | Jan. 4th |
| July 8th | ResetCentralNodes1 | Pets -> Upgrade Map: Resets your Central Nodes so you can redistribute your Valor. | July 20th |
| July 8th | ResetCentralNodes2 | Pets -> Upgrade Map: Resets your Central Nodes so you can redistribute your Valor. | July 20th |
| July 17th | ResetCentralNode3 | Pets -> Upgrade Map: Resets your Central Nodes so you can redistribute your Valor. | July 24th |