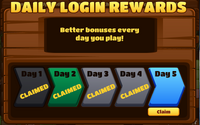 Players who are assiduous to the game are rewarded with Daily Login Rewards. If you log in for two or more days in a row, you will see a screen to claim a reward composed of Gold, AP and Diamonds when the Daily Reset occurs.
The reward increases with each consecutive Daily Login claimed, up to 5 days. When the 5th day is collected, it will restart to day 1.
Ad blocker interference detected!
Wikia is a free-to-use site that makes money from advertising. We have a modified experience for viewers using ad blockers

Wikia is not accessible if you've made further modifications. Remove the custom ad blocker rule(s) and the page will load as expected.