This article or section is incomplete and requires further information.
Reason: Table Outdated


You can

edit

this page to improve it.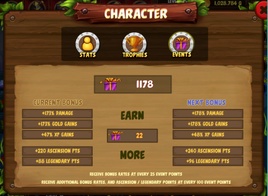 Event Point Milestones is a reward system for obtaining Event Points.
There are five different bonuses from Event Point Milestones:
The Base Damage, Gold gains, and XP gains rates increase every 25 Event Points. Every 100 EP, they go up more and Ascension Points and Legendary Points are awarded.
The Experience and Gold Boosts stack additively with most other sources (Support bonuses, Account upgrades, Altar bonuses, Ascension boost upgrades, Guild upgrades) and, additionally for gold, Gold Rate (the upgrade purchasable with gold) and Inferno Bonus, but multiplicatively with the Party Boost ascension upgrade.
Event Milestone Table
Edit
Event Points Required
Bonus
10
+5% Base Damage
+3% Gold Gains
+1% XP Gains
25
+10% Base Damage
+6% Gold Gains
+2% XP Gains
50
+15% Base Damage
+9% Gold Gains
+3% XP Gains
75
+20% Base Damage
+12% Gold Gains
+4% XP Gains
100
+25% Base Damage
+15% Gold Gains
+5% XP Gains
125
+28% Base Damage
+18% Gold Gains
+6% XP Gains
150
+31% Base Damage
+21% Gold Gains
+7% XP Gains
175
+34% Base Damage
+24% Gold Gains
+8% XP Gains
200
+37% Base Damage
+27% Gold Gains
+9% XP Gains
225
+40% Base Damage
+30% Gold Gains
+10% XP Gains
250
+43% Base Damage
+33% Gold Gains
+11% XP Gains
275
+46% Base Damage
+36% Gold Gains
+12% XP Gains
300
+49% Base Damage
+39% Gold Gains
+13% XP Gains
325
+52% Base Damage
+42% Gold Gains
+14% XP Gains
350
+55% Base Damage
+45% Gold Gains
+15% XP Gains
375
+58% Base Damage
+48% Gold Gains
+16% XP Gains
400
+61% Base Damage
+51% Gold Gains
+17% XP Gains
425
+64% Base Damage
+54% Gold Gains
+18% XP Gains
450
+67% Base Damage
+57% Gold Gains
+19% XP Gains
475
+70% Base Damage
+60% Gold Gains
+20% XP Gains
500
+73% Base Damage
+63% Gold Gains
+21% XP Gains
525
+76% Base Damage
+66% Gold Gains
+22% XP Gains
550
+79% Base Damage
+69% Gold Gains
+23% XP Gains
575
+82% Base Damage
+72% Gold Gains
+24% XP Gains
600
+85% Base Damage
+75% Gold Gains
+25% XP Gains
625
+88% Base Damage
+78% Gold Gains
+26% XP Gains
650
+91% Base Damage
+81% Gold Gains
+27% XP Gains
675
+94% Base Damage
+84% Gold Gains
+28% XP Gains
700
+97% Base Damage
+87% Gold Gains
+29% XP Gains
725
+100% Base Damage
+90% Gold Gains
+30% XP Gains
750
+103% Base Damage
+93% Gold Gains
+31% XP Gains
775
+106% Base Damage
+96% Gold Gains
+32% XP Gains
800
+109% Base Damage
+99% Gold Gains
+33% XP Gains
825
+112% Base Damage
+102% Gold Gains
+34% XP Gains
850
+115% Base Damage
+105% Gold Gains
+35% XP Gains
875
+118% Base Damage
+108% Gold Gains
+36% XP Gains
900
+121% Base Damage
+111% Gold Gains
+37% XP Gains
925
+124% Base Damage
+114% Gold Gains
+38% XP Gains
950
+127% Base Damage
+117% Gold Gains
+39% XP Gains
975
+130% Base Damage
+120% Gold Gains
+40% XP Gains
1000
+133% Base Damage
+123% Gold Gains
+41% XP Gains
CONT.
Chart continues
Chart continues
Chart continues