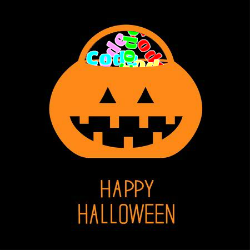 In October
30 Potential event points
10% Gold/XP/Wood/Stone and double cards for the duration
Candy Code(s):
2310132373A7031000FD987A3C9F87B
222DD6EC859D284DC13885A37CE8D81

How to Play
Edit
Players must redeem expeditions in order to get candy. With candy players can click on the creatures to do damage, at the cost of 1 candy per-click. Once a creature is defeated the player earns rewards, moving to a more difficult stage. If all 15 stages are completely the player moves up in difficulty.
Expeditions
Edit
Expeditions can be redeemed as soon as it's collected, however players must wait until the timer reaches 0 before being able to collect the candy.
| Timer (hours) | Candy Given |
| --- | --- |
| 6 | ? |
| ? | ? |
| 20 | ? |
Scare Points Milestone
Edit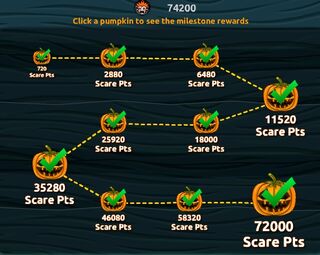 As you defeat enemies you get scare points to unlock further milestones, giving increasing rewards.
This article or section is incomplete and requires further information.
You can
edit
this page to improve it.
Ad blocker interference detected!
Wikia is a free-to-use site that makes money from advertising. We have a modified experience for viewers using ad blockers

Wikia is not accessible if you've made further modifications. Remove the custom ad blocker rule(s) and the page will load as expected.