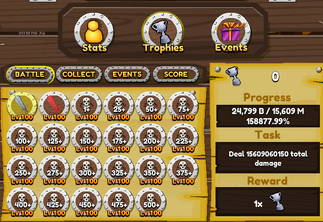 Trophies are rewards awarded for reaching certain goals at several aspects of the game.
Trophies may be used for buying Trophies Upgrades, which reduce some timers and cooldowns.
Each type of Trophy has a maximum of 100 levels.
There are four categories of Trophies:
Ad blocker interference detected!
Wikia is a free-to-use site that makes money from advertising. We have a modified experience for viewers using ad blockers

Wikia is not accessible if you've made further modifications. Remove the custom ad blocker rule(s) and the page will load as expected.